Welcome to a small piece of paradise!
In my first ever blog post I would like to introduce Boardwalk Small Hotel Aruba which is a hidden gem on the island of, what's in a name, Aruba.
It's here that my husband and I said our I do's; it's here that we stayed with our family and friends during that celebratory week.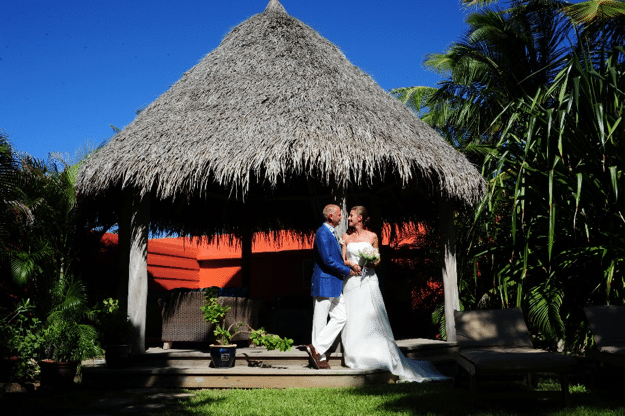 We found this place about a decade ago and it instantly stole our hearts.
It's a small boutique hotel, they currently have 14 casitas, set amid an old coconut plantation just minutes away from the beach, shops, bars and restaurants.
Stephanie and Kimberly, the Belgian twin sisters who run the place together with Lola, make you feel right at home because of the personal service they provide for each guest.
Stephanie and Kimberly even helped us out with our wedding beach signs. Lola, their dog, is the hotel mascot.     
The intimate relaxing atmosphere makes this the perfect hideaway for anyone who enjoys a bit of privacy and who prefers small, secluded romantic retreats over the always present colossal resorts.
                                                        The pool and jacuzzi set amid the lush garden
The casitas (small houses) are very colourful which gives you an instant Caribbean feel.
They all have their own bbq and hammock and are fully air conditioned.
Our favourites are casitas #6 and #23, we've stayed here so much that they feel like our home away from home

The girls have plans to increase the number of casitas as business is booming, but they intend to keep the authenticity and the cosiness which make the Boardwalk unique and full of character.
Just check out their website and go the 'press and awards page' and you'll see what I'm talking about!!
I'm going to let www.boardwalkaruba.com do the rest and I hope we get to meet someday in this little piece of heaven, hidden away on a fantastic island!
xox
Babs